Fruit vs. Obst
In English, there is a very common confusion among students:
Tomato: Fruit or Vegetable?
Every German will say it's a vegetable. But actually, in English, and most roman languages, it is both. Why? Because, as every translator will tell you, words rarely translate one-to-one between languages.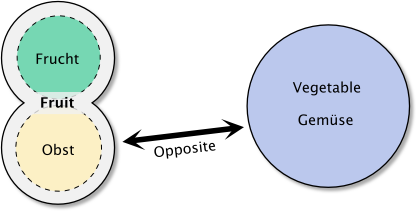 So, what is this weird diagram supposed to show? Well, on the right is the word "Vegetable". It translates one-to-one to the German word Gemüse. On the left is the word fruit. To translate it to German correctly, you need to pick between two German words, Frucht and Obst:
If you are asking the question "Fruit or Vegetable?", you're probably looking for Obst as the translation of choice for "fruit". Obst is a classification, the opposite of a vegetable. An Apple is Obst, while a tomato is a vegetable.
So what is Frucht? Frucht is the word that describes the meaty things containing seeds that hang off of plants. A tomato is a Frucht, as is an Apple. A berry is a kind of Frucht. A bulb (like an onion or a scallion) isn't, because it contains no seeds.
So, yes, a tomato is a Frucht, and a vegetable, but it is not Obst. In English, the same word "fruit" is used for Frucht and Obst, hence the confusion.
So, next time you wonder why you should hire someone to do your translations into a foreign language, or the next time you try to assess how complicated it may be to translate your application, keep such differences in mind. You will often need special code for each language your text is translated to, and what may be the same, reusable string in one language may be a completely different one in another.
Jay writes:
Much more sensible in German. Thanks for this.
Edi Martins writes:
Thankfully German corresponds with Spanish in this case. Frucht = fruto, Obst = fruta. And, tomatoes are not vegetables, thank you all. Therefore, both Frucht and Obst. Common sense. It goes something like this: all Obst are Frucht but not all Frucht are Obst :)